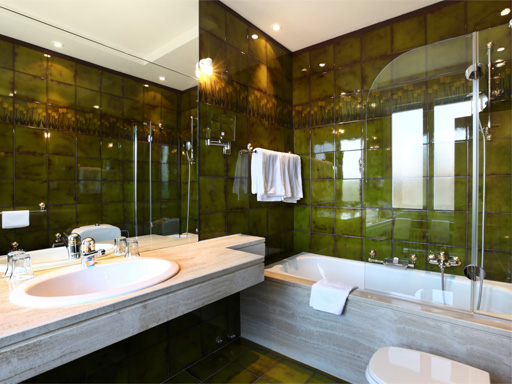 Now that the busy travel season is over and you're preparing to hunker down for the winter, the time couldn't be better to finally remodel your bathroom. If you can get the renovations completed before the winter hits, you'll have the entire season to enjoy your new bathroom and all of its perks. The key to any bathroom remodeling project (and to any remodeling project in general) is making sure that you design the new bathroom to your satisfaction. As long as you have a clear idea of what you want your bathroom to look like, it becomes relatively easy to make it so.
There are many tools a person can use to design their new bathroom. The first thing that you need to do, however, is to select the perfect company to make the renovations for you. You should consider the cost of the project the company is telling you, the quality of their past work, the amount of experience they have and how their past customers feel about the work they've done for them. You should also take some time to look through their gallery to make sure that what they've done for other customers looks good to you. Once you've done all of this, you'll likely choose Marrokal Design and Remodeling. Their past work, their level of experience, their quality guarantee and their outstanding customer communication and service make them a clear choice in their industry.
Once you've decided on the company you want to work with, the next step is designing your bathroom. There are many tools at your disposal that will help you come up with your blueprints. The first thing you should do is go back to the gallery of the company you hired and to the galleries of other companies. By looking through various pictures of other, completed bathrooms you can start to get an idea of what you like. Maybe you fall in love with the bathtub/shower of a particular bathroom, and the sink of another. These galleries will give you great ideas about specific parts of your bathroom design. By integrating these various things you can start to draw up clear pictures of your new bathroom.
Another great thing to do is to take mental notes of the bathrooms of other homes you are in. When you go to visit a friend to watch football on Sunday or you visit an open house of an acquaintance, you should take mental notes about the aspects of their bathroom that you like the most. These mental notes will give you more ideas about what you can do with your own bathroom. It's also a great idea to visit the social media site Pinterest. You can create a board on their site that will allow you to accumulate pictures of various bathrooms that you like the look of. Once you've collected all of this information, sit down with your bathroom renovations specialist and start to draw up the blueprints with them. By working closely with the company that will actually be doing the work, you should be able to end up with the bathroom you're envisioning in your mind.