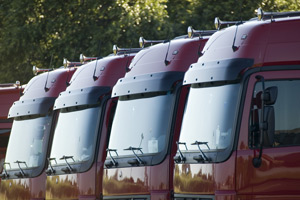 GPS asset tracking devices are highly regarded in the trucking industry. In fact, some drivers and managers may even go as far as to state that such systems are indispensable. However, some systems may create more issues than solutions. As a result, when choosing a GPS tracking device, there should be specific goals set, and integration of advanced technology to prevent one or more of the following situations:
Low Bridge Overpasses – because many trucks are built higher than regularly passenger vehicles, there are some restrictions while driving. When passing under a bridge or tunnel for instance, warnings will usually be displayed in white and black signs regarding height restrictions. To minimize the waste of time and energy driving a specific route, GPS systems that calculate these limitations and make the wisest suggestions for detours should be offered.
Transporting Hazardous Materials – there are also restrictions for transporting hazardous materials on regular roadways. The cookie cutter GPS tools offered in electronics stores may therefore become irrelevant to these industries. To ensure GPS selections that work for your business, be sure to consult with commercial GPS tracking providers, that can customize based on the company's needs.
More details can be read on the Federal Motor Carrier Safety Administration, which is the regulatory board for moving and trucking businesses that cross state lines. The local municipality garners some control, plus the USDOT FMCSA provides a comprehensive map of all routes for hazardous materials in the United States. Examples of hazardous materials include compressed gas, acid and others that could cause havoc to passengers if spilled.
Other factors affecting GPS tracking selections include the height, weight and axle of the truck.
The above synopsis provides GPS tracking tips for fleet management, but what about selections for in-store GPS tracking. Here are some of the top selections and advice:
Geofence – basically provides an invisible barrier for larger equipment and is essential in warehouse inventory management systems. This technology is practical for a range of industries including importing and exporting, and production companies that fulfill large orders at one time.
RFID – this technology is practical for retailers who would like to reduce inventory loss. Shoppers may already be aware of this technology, as the failure to pay for merchandise will usually result in an alarm system being set off. The cashier usually removes these tags once customers pay to prevent any embarrassment or harassment of customers.
QR Codes – are somewhat the equivalent of tracking codes. These codes can be scanned each time a package passes through dedicated portals. This form of GPS tracking is especially useful for courier services including the U.S. Postal Mail services that have followed suit to companies like FEDEX and UPS as an example. Once customers receive orders, the shipping is marked as fulfilled, and the tracking provides better accountability.
As depicted, tracking devices aren't a one size fits all scheme. Selections should be made based on the company's goals.
Consultations with commercial tracking vendors is a must before any specific selections are made.